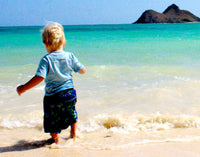 Aloha, and welcome to Little Turtle Hawaii!
Our name has changed, but we're still the same (formerly Baby Showers Hawaii). Thank you for visiting!
Our heart and soul is rooted in Kailua, Hawaii and is reflected in our Hawaiian and ocean-inspired collections. All of our products are handmade here in Kailua, and we ship directly from Kailua, Hawaii 96734.
Mahalo to all our customers in Hawaii and around the world for over 40 years of Aloha!
NEW Collection

Kauwela Teal
Baby Siarah modeling a hibiscus flower 🌺
Baby Milla modeling our hooded bath towel sized for newborns-4 years old
Baby Luke at Lanikai Beach
Baby Siarah modeling a hibiscus flower 🌺
Baby Luke at Lanikai Beach